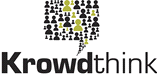 Digital Innovator Improving Crowd Resilience
What They Said
"The BAR approach helped us to resolve the broad range of market opportunity that was available to us into something that differentiates our business. Their bid support helped obtain funding for our development and seeds a strong next stage of growth for us. The depth of domain knowledge, breadth of expertise and the structured approach of the BAR team has been highly effective in supporting our entrance into the UK Defence and Security sectors, not only in securing the DASA funded project but also in raising awareness and profile of our business which identifies several other use cases and wider utility for the Krowd© solution."
– Geoff Revill, CEO

The Challenge
As an ambitious start-up business in a growing technology market, Krowdthink was looking to develop and navigate through a clear strategic pathway for growth. This was to help with the opportunity to disrupt in its chosen market sectors, whilst managing the day to day running of the business.
The challenge encapsulated the need to identify and address where the most significant potential opportunity for near-term growth lay that would enable a step change towards the longer-term development of the business.

The Approach
BAR rapidly identified the innovation potential in the security sector of the Krowdthink capability and supports, through a specialist BAR team, a £240k funded project through the Defence and Security Accelerator to seed its near-term growth. This initial engagement has allowed Krowdthink to work to a robust yet agile business strategy that is well positioned to attract significant new investment to support its future growth plans.

The Value
Working in collaboration with the CEO, BAR is applying its A3 Methodology (A3MTM) to:
Critically assess the business situation and consider defence and security market insights to help develop strategic growth options;
Determine resource constraints, overlay the options and assess their impact on optimising near term growth objectives;
Consider appropriate defence and security innovation initiatives to exploit emerging opportunities to secure seed funding;
Improve effectiveness of senior management planning to take advantage of the right near-term market engagement.